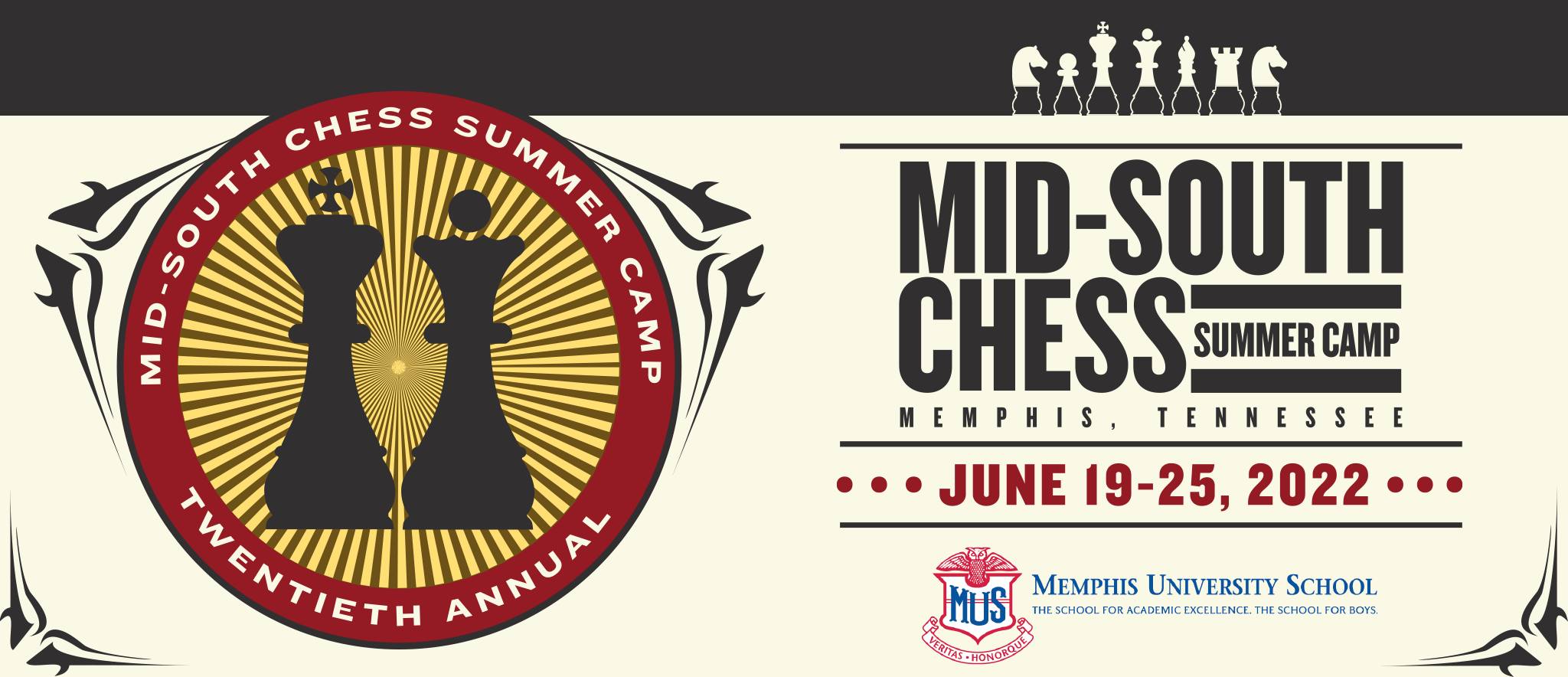 When
Sunday, June 19, 2022 at 3:00pm - Saturday, June 25, 2022 at 12:00pm
Where
6191 Park Ave, Memphis, TN 38119
Description
Join us from June 19- 25, 2022, for the 20th Annual Mid-South Summer Chess Camp - The Premier Chess Camp of the South - All Ages, All Levels! This camp is centrally located in Memphis, TN, on the beautiful campus of Memphis University School, 6191 Park Ave. The camp, founded by GM Alexander Stripunsky and IM Jake Kleiman, will feature coaches GM Joel Benjamin, WGM Dorsa Derakhshani, IM elect Alex Velikanov, NM Nolan Hendrickson, and more. These instructors represent years of extensive, successful chess coaching and are considered among the best in the country.
We divide our campers into small groups according to age and level of play, each with a counselor. This is an exciting and intensive, yet fun, chess camp with multiple hours of age and level appropriate instruction combined with special activities including sports, interactive chess play, and optional evening activities. Our instructors rotate during the day - what a difference this makes! Camp includes Sunday afternoon opening orientation/reception for parents and campers, a unique camp designed T-shirt, special camp medal, autographed certificate, group photo. a Grandmaster Simul, and concludes with an awards closing ceremony followed on Saturday June 25th with free entry to the camp tournament.
At Mid-South Chess, our goal is chess for life. We believe in all that chess has to offer - integrity, honor, chivalry, and education. Chess is not just a game - it's a way of thinking, living and believing. When children develop a passion for chess, they develop a passion for life. So as we take children from the foundations of chess to deeper levels of strategic thinking, their goals in chess can parallel their goals in life. Success begins at Mid-South Chess!
Experience the top quality of Mid-South Chess and its 20th Annual Summer Chess Camp. Don't miss out!
---
Registration Information
Camp Tuition
$395 - Early Bird Individual Registration by April 15th
$425 - Regular Individual Registration by May 20th
$450 - Late Individual Registration after May 20th
$475 - At-The-Door-Individual Registration (If Space Available)
Camp Registration Includes
Simul with GMs
Camp Medal
Camp T-Shirt
Group Photo
Daily Souveneir
Autographed Certificate
Entry to June 25th Tournament
Camp Registration Options
Register Online
Click here to submit your registration online.
Register by Mail
Click here to download the official registration form to download our printable registration form to submit your registration by mail.
---
Camp Features
Small Class Sizes
Counselors with Each Group
Sports Breaks (optional)
Game Analysis
Consultation Games
Instructor Rotation
Before and After Game (7:30am - 9:00am & 4:00pm - 5:30pm)
---
Camp Schedule
Sunday, June 19
3:00pm - Opening Reception at MUS
Monday, June 20 - Thursday, June 23
9:00am - Camp
7:00pm - Evening Sporting and Chess Activities
Friday, June 24
9:00am - Camp
4:30pm - Awards & Closing Ceremony
Saturday, June 25
10:00am - Camp Chess Tournament
---
Hotel Information
Homewood Suites-Germantown is the suggested hotel for our out-of-town campers and families:
Homewood Suites-Germantown
7855 Wolf River Blvd, Germantown, TN 38138
901-751-2500
Group Code: MSC
---
Meet the Founders
Alex Stripunsky International Grandmaster · Founder and Head Coach of Mid-South Chess Camp

GM Stripunsky has gained great respect and recognition as one of America's Elite Grandmasters and is known as one of the Premier Chess Coaches in the US. He has coached many of the top young chess players in the country including NM Joshua Colas, the 20IO 7th grade National Champion, IM elect Parker Zhao, IM Teddy Coleman, and IM Jake Kleiman of Memphis. An avid runner and exercise proponent, GM Stripunsky often combines his enthusiasm for chess and fitness by quoting Goethe when he says, "Chess is the Gymnasium of the Mind." Some highlights in GM Stripunsky's career include: US Co-Champion 2005, Invitation to play in the World Championship, Coach of US Women's Olympian Team, Continental Open Champion 2008, National Congress Champion 1st Place, Philadelphia Open 20IO 1st Place tie, Continental Open 2014 lst Place tie, Atlantic Open 20l4 lst place tie, and Manhattan Open 2014 Champion.
Jake Kleiman International Master · Founder of Mid-South Chess Camp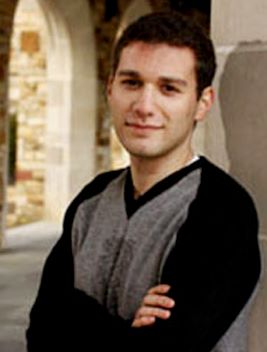 Jake Kleiman is a Phi Beta Kappa and Magna Cum Laude graduate of Rhodes College. IM Kleiman was invited to play in the US Cadets, the World Junior Olympics, the US Masters, and on the US World Youth Team. In 2005 and in 2006, he was invited to play in the US Championships. In 2006, he was runner-up in the US Junior Championship. In addition, he was recognized by the United States Chess Federation with its annual Scholar/Chess Player Award. IM Kleiman took first place in the Millionaire Satellite Chess Tournament held August 20l4 and is the highest rated player in our region. No stranger to chess instruction, IM Kleiman has been coaching at Mid-South Chess Camp as well as in school settings for twenty years. He has coached some of the top-rated Tennessee Scholastic Chess Players. IM Kleiman recently graduated from dental school and is in his residency.
---
Meet the Coaches
Joel Benjamin International Grandmaster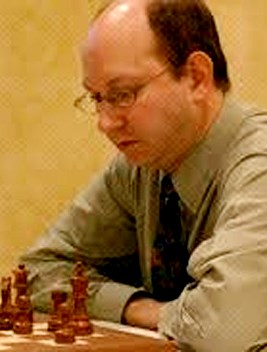 Grandmaster Joel Benjamin was the prodigy who broke Bobby Fischer's record for youngest U.S. Master. After winning many national scholastic and junior titles, Joel competed in a record 23 consecutive U.S. Championships from 1981-2006 and took the title three times. He has also played on many national teams, competing in Olympiads for the U.S. six times including team silver 1990, team bronze 1996, and two World Team Championships, team gold 1993, team silver 1997. and individual gold 1993. He shared first in six World Opens. Joel was the chess consultant to the IBM's chess computer Deep Blue for its victorious match with Garry Kasparov in 1997, the subject of the 2013 off-Broadway production The Machine (Joel is a character in the show). He also had a cameo in the film, Searching For Bobby Fischer (1993). Check out his new books, "liquidation on the Chessboard" and "Winning the World Open.''
Alex Velikanov International Master - Elect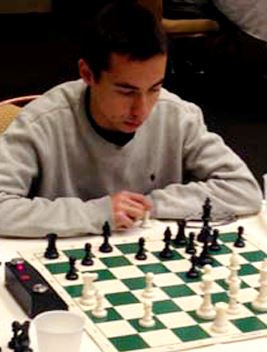 Currently a student at The University of Wisconsin-Milwaukee, IM-Elect Alex (Sasha) Velikanov is a dedicated chess player and instructor. Alex has been hooked on the game ever since he first discovered chess at the early age of four years old, from a basic game on his computer. By the time he was 12 years old, he was a 2000 rated player with global experience, from Vietnam for the 2008 World Youth Chess Championships, to Russia, to Canada. Nine years later, he has added notable results such as the North American U-16 Champion and Denker Tournament of High School Champions Winner. Alex stresses tactics and opening knowledge (ideas, not just theory!) as two crucial cornerstones of chess development. As the #4 rated player in his home state of Wisconsin, Alex is still fascinated by the game and continues to work tirelessly everyday to get to the next level of chess understanding.
Dr. Andre Duvall Early Childhood Educator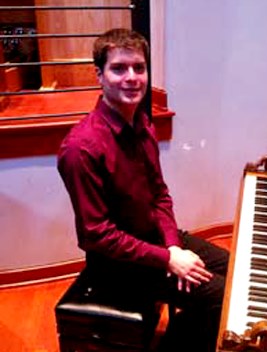 Andre Ouvall holds a Doctor of Musical Arts degree from the University of North Carolina. Active as a performer and music educator. Dr. Duvall was appointed Coordinator of Class Piano Studies at UNCG in 2012, planning curricula and training other instructors. The University of Memphis selected him from among 250 instructors to receive 2010 Graduate Assistant Meritorious Teaching Award for excellence and innovation in the classroom. An avid chess player, he serves as a classroom instructor for Mid-South Chess and has worked with Mid-South Chess Camp since 200B. Believing in the importance of developing a well-rounded chess player, he incorporates music and art into the curriculum of young chess students for an enjoyable and memorable experience. He currently serves on the music conservatory faculty at Lausanne Collegiate School.
Dorsa Derakhshani Women's Grandmaster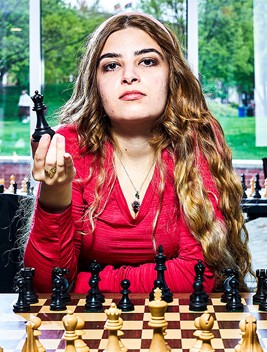 WGM Dorsa is not only headed frequently to the chess board but also to medical school later summer 2022. A few of her many chess accomplishments include being the three-time winner of the Asian Youth Championships, third place in the US Women's Chess Championship. Captain of the St. Louis Chess University Competitive Chess Team, and Bronze at the World University Chess Invitational in Tianjin, China. Dorsa is also a certified International FIDE Chess trainer and an accredited FIDE Chess journalist and has co-authored with her FIDE Master brother a chess book heavy on an important component in chess competition; psychology.
Nolan Hendrickson National Master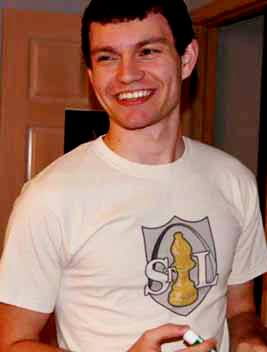 Nolan is one of the top chess players and chess coaches in Wisconsin. He earned his National Master at the age of 17 and the life Master title at 22. Nolan was awarded a scholarship for competitive chess at Lindenwood University where he had the unique opportunity to study under coach GM Vasser Seirawan - an American chess legend. Nolan is extremely passionate about teaching chess and is motivated to help his students accomplish their chess-related goals. He has been teaching for over 10 years and has helped people of all ages improve their rating and zest for the game. Nolan utilizes his knowledge of psychology and learning to help his students maximize their success in chess. Nolan has taught for Mid-South Chess' Summer Camps for years and is held in high esteem by the campers, staff, and families. Outside of chess, Nolan holds a Master's degree in Clinical Mental Health Counseling and is a licensed therapist in Wisconsin. He hopes to publish his book on emotion theory in the years to come.
Eli Baumann Early Childhood Educator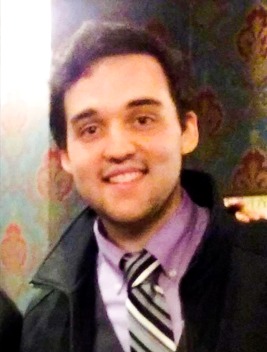 Eli is a licensed school educator and a choral director in the state of Wisconsin. He has taught for five years in the classroom but has coached k-12 chess clubs for fifteen years. He founded an intercollegiate chess league and has hosted several collegiate chess tournaments. Currently, Eli teaches chess as part of curriculum at his school and is a Class A USCF chess player.
When
June 19th, 2022 3:00 PM to June 25th, 2022 11:00 AM
Location
6191 Park Ave




Memphis

,

TN

38119




United States