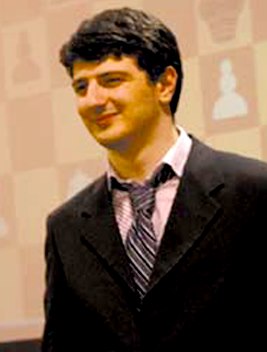 Zviad Izoria
International GrandMaster
Career Highlights:
Zviad Izoria was born in 1984. Achievements in Chess World U-16 Champion (Spain, 2000) European Junior Champion (Greece 2001)
European Junior Champion (Azerbaijan 2002)
European U-18 Champion (Greece 2001)
HB Global Chess Challenge winner (USA 2005)
European Vice-Champion in Rapid Chess (Armenia 2004)
European Individual Championship – V place (Turkey 2006)
Liberty Bell Open' winner (USA 2004)
Manresa Open winner (Spain 2004)
Hoogoveen Open winner (Holland 2003)
Istanbul Open winner (Turkey 2003)
Acropolis Open – II place (Greece 2005)
Garry Kasparov Cup owner (Russia 2000)
World Chess Olympiad – IV place with Georgian National Team (Slovenia) 2002
Many times Georgian Youth Championship winner
Many International tournaments' winner
FIDE rating for 01.01.2007 – 2644 (64th in the world ranking)
Highest rating – 2660.
Highest rank – 49th.